The first thing you do when you begin Site Diary is creating a new organisation. From the organisation is where you will manage your users, resources (manpower, equipment, and material), tags and contractors.
Here are the steps to creating an organisation
Click on the "+ create" button.
Give your space a name, fill in the details and click save.
Click on the organisation you just created to enter the organisation.
Next, let's create a site to get you on your way
You will have a first message that says "To continue using the application, please select a site. Click the select button
Click the "create a new site"

Fill out the site details and contact information. This information will appear on the PDF reports.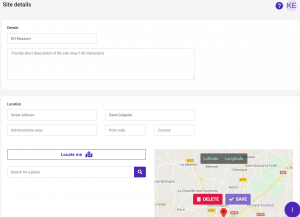 Don't forget to fill the weather settings