Site Diary update version 1.6.7
Press release

Product Info
2 minute(s) read
Birmingham, 2 March 2020
Site Diary, the top construction reporting app is announcing today an update which includes new view only user rights and several user experience improvements. Everything we did is based on user request in order to improve the value the app brings to our users and for the users to have a better experience while using the app on a daily basis.
New View Only user rights
Sticking to our core vision that Site Diary should be a collaborative tool where all stakeholders on a project should be able to see the data, we introduced a view only user rights. This right is for the people in your project/company who just need to see what is going happening on the project and export reports.
See here is the table with the rights that this user can do. Also, visit the user rights tutorial.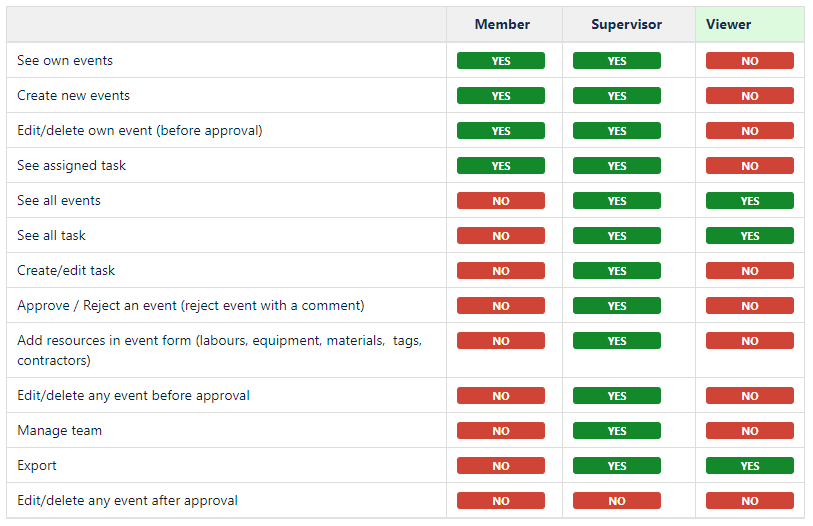 Display diary entry creator's name in the mobile app.
As a supervisor or a foreman on a big site, you may have several people who are filling in diary entries each day. Therefore, we made it easy for you to see who created which entry so you can easily go and signoff/approve the entry.
Make form fields more easily clickable (bigger fields)
We know that an issue that most people in construction have with mobile apps on a phone is that the buttons are too small so it is difficult to navigate. We had this same issue in our app but we have now addressed it by making the buttons bigger, spaces between fields are bigger, and more responsive when you click it. See below the comparison between the old vs the new form.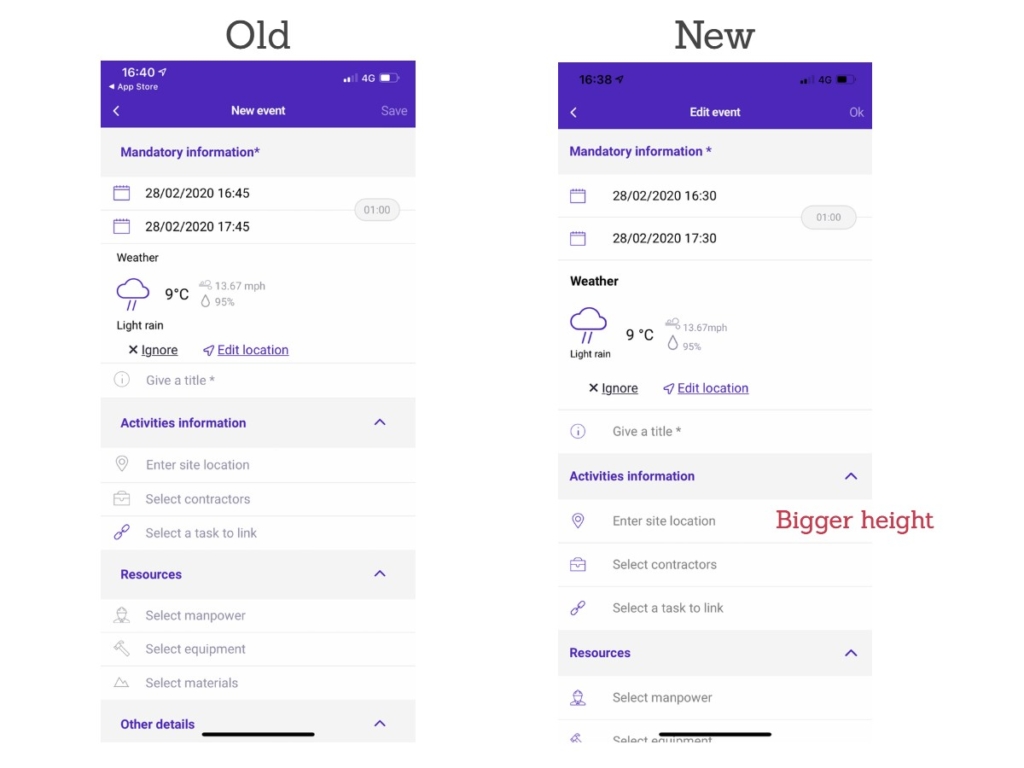 There were some other minor improvements/bug fixes like the following.
Improve how line breaks (paragraphs) are displayed in events preview
Add option to filter events by tasks
Fix date/time has been triggered when you click anywhere in the field
Rename summary report button to Export Summary PD
In case you missed it, earlier this month we had an update that saw these improvements.
New input format for quantity in mobile app
Remove icons in resources and put Qty in event and task preview for quantity
Task column added to Excel report
To test these updates or other features, log in to your account or sign up for a new free trial.
About Site Diary
Site Diary is a construction diary and task-allocations app that keep records of everything that happens on site while having visibility on work progress.
The app is used by more than 10,000 construction workers in 94 countries and more than 300,000 diary records created between 2017 and 2019.
Site Diary is owned by the French company Script&Go with offices in Birmingham, UK, Rennes, France and Toronto, Canada.
Contacts
For more information and product images, contact hi@sitediary.com or by phone +44 (0)121 728 0554 or visit sitediary.com.