Site Diary update 1.60
Press release

Product Info
2 minute(s) read
Birmingham, September 2, 2019
Site Diary, the top construction reporting app is announcing today an update which includes new payment system and pricing plan, PDF report enhancements and design improvements. Everything we did is based on user request in order to improve the value the app brings to our users and for the users to have a better experience while using the app on a daily basis.
New payment system and pricing plans
We are three introducing new pricing plans called Shovel, Forklift and Bulldozer. The shovel is a free plan with certain limitations. See more details about the pricing here.
If you don't subscribe to a paid plan after 30 days your account will automatically go down to the free plan.
From the web app, you will be able to subscribe to a pricing plan. We are also introducing the possibility to pay in 5 currencies (USD, EUR, GBP, CAD, and AUD).

PDF Reports enhancements
In Site Diary, there are now 3 types of PDF reports. The normal events report, daily summary and weekly summary. Earlier in July, we introduced daily summary reports and today we are releasing a weekly summary report. The summary reports accumulate the manpower, equipment, materials and photos taken for that day or week into one report. Also, it puts in all the list of activities and their progression.
Overall, we made all PDF reports cleaner and nice for you to send to your boss or client. We also made the export time of PDF report considerably faster.
Another major addition to the events pdf report is that you can now export them for up to 30 days which before was limited to 7 days.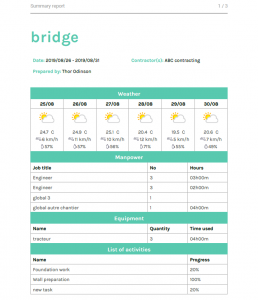 Design improvements
User experience is important to us which is why we made several design improvements to the app.
Web app – Improvements to the Diary and Task creation forms as well as the task list view.
Mobile app – Improvements to the Task creation form and Task preview.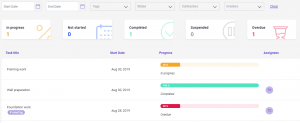 Plus lots of bug fixes and performance improvements
To test these updates or other features, log in to your account or sign up for a new free trial.
About Site Diary
Site Diary is a construction diary and task-allocations app that keep records of everything that happens on site while having visibility on work progress.
The app is used by more than 6,000 construction workers in 94 countries and more than 240,000 diary records created between 2016 and 2018.
Site Diary is owned by the French company Script&Go with offices in Birmingham, UK, Rennes, France and Toronto, Canada.
Contacts
For more information and product images, contact hi@sitediary.com or by phone +44 (0)121 728 0554 or visit sitediary.com.